Hotel Butterfly
Welcome
Butterfly Viareggio
Your love nest
Our structure
Situated in a splendid panoramic position...
A few meters from the shores of Lake Massaciuccoli, you can find the Butterfly Hotel in Viareggio, equipped with 14 themed suites with hydromassage, ready to overwhelm you in an unforgettable experience for your romantic escape in Tuscany ...
DIVE INTO A WORLD OF BUBBLES
Each Suite has an exclusive romantic setting and features a private whirlpool tub that can be removed from under the bed, patented for the well-being of the couple. In addition, you can choose the suite with sauna, or with romantic gazebos, private terrace, cinema and relaxation area with mini bar. Unmissable experience is to dine by candlelight directly in your suite…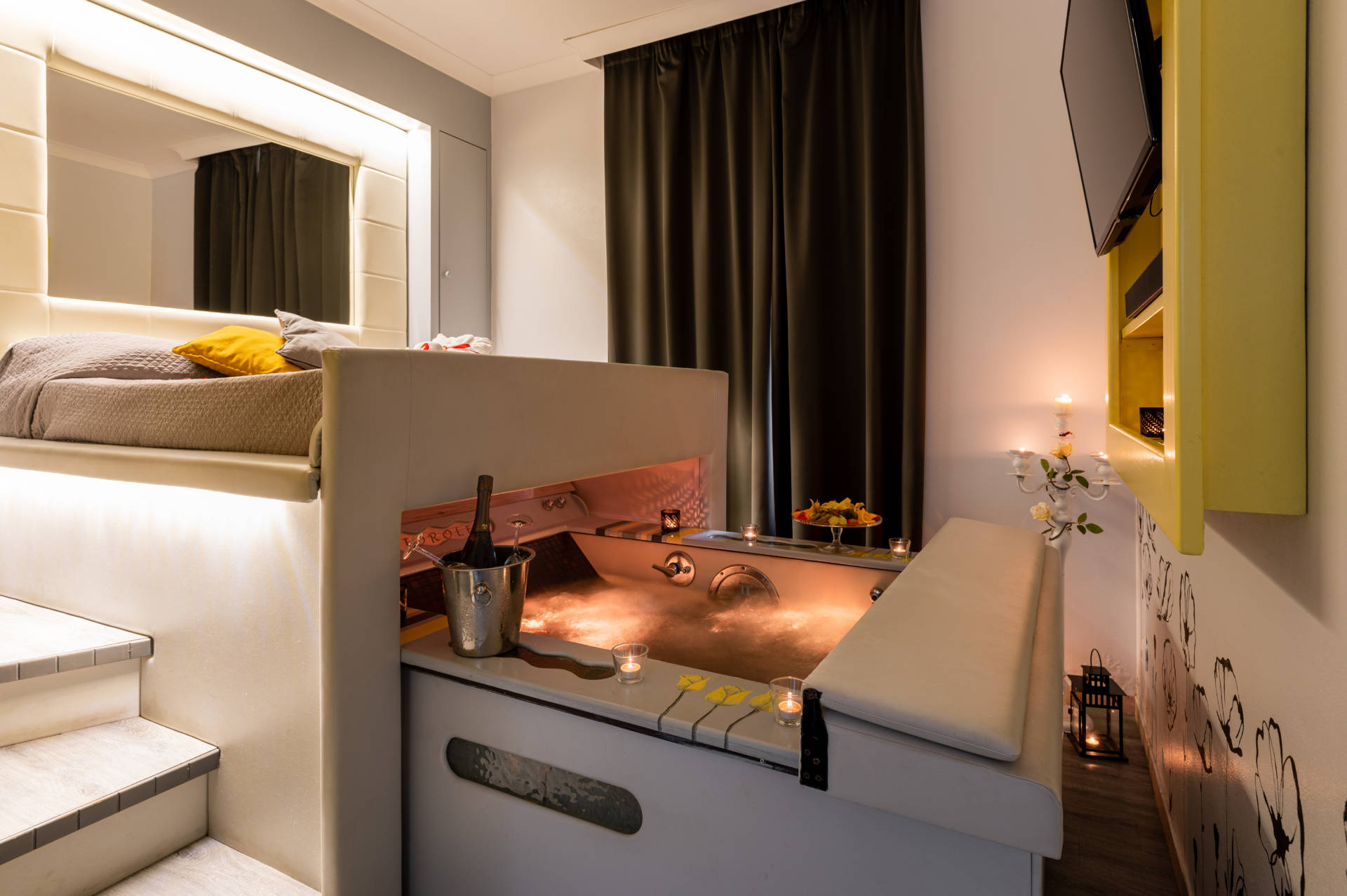 Customize your stay by choosing from our packages
Give a star
Love video
Throat 5 capital vice
Only for true lovers:
Give a star to your partner christened with his name, with registration and certificate.
Dedicate your promise of love to him.
CLICCA QUI
A romantic video
Surprise her with a romantic thought that will add an extra touch to your stay in the Suite.
Get her excited with romantic video that touches her heart, you send us photos and point out a soundtrack, we'll take care of the rest.
CLICCA QUI
Love with play
5 desserts to taste specially prepared by our Chef, a blindfold at your disposal, and a path to face through taste.
Combine the two most beautiful pleasures in the world, love and food, and you will make your romantic getaway special.
CLICCA QUI
Weekend in relaxation
I stayed at this facility this weekend November 13 and 14. The stay was a birthday gift from my boyfriend.
The welcome from all the staff was very warm and professional. Mr. Massimo creates a very informal atmosphere and makes you feel immediately at ease.
The room beautiful, equipped with all kinds of kit (even toothbrush and mini toothpaste).
The only flaw in the room is perhaps the bathroom. I personally prefer different showers in hotel rooms than the one I found. Be that as it may given then the experience itself this goes by the wayside!
The hot tub and a well-stocked aperitif get you into a fantastic relaxing mood! We also took advantage of the in-room dinner and it arrived very punctual, nice and hot and with generous portions, very good!
Breakfast was also plentiful and served a few minutes after ordering.
I sincerely recommend this facility to those who feel like cuddling a bit with their partner and enjoying a few hours of total relaxation!
Successful surprise!!! You are unique ❤️❤️
I was told it was the right place to plan a surprise for my boyfriend's birthday, but I didn't think they were that good! We managed to make him move!!! Everything taken care of in every detail, beautiful and clean room, both dinner and wine excellent. HIGHLY RECOMMENDED!
True romantic getaway
What can I say… to do at a minimum once in a lifetime!!! We will definitely return as soon as possible to try the other suites!!! Cleanliness and friendliness at the first place, Iacuzzi "hidden"'under the bed a knockout
A dream weekend
Thanks to my partner I spent a wonderful weekend in this hotel.
Very nice hotel and well taken care of.
While we were waiting, they made us sit at the bar and offered us a glass of prosecco
Massino greeted us with all his kindness…he knew the surprise was for me and made sure I was the one to open the door to our room…..a marvel!!! …..candles everywhere in the background of romantic music….and Massimo's words a hymn to love….our own.
In the room in a corner was set up the appetizer appetizers…fruit skewers and prosecco.
In a corner of the room the area reserved for dinner heart-shaped table already set….the dinner (served in the room of course) excellent! Espresso machine available.
Frigobar well stocked.
Breakfast served in the room very good.
Added value of the room the hot tub hidden under the bed.
The location is perfect..the hotel is located along the lake and the panomarama in the evening is really romantic.
I recommend this hotel to all couples in love…an unforgettable experience…a dream….THANK YOU to my partner and all the staff who made this weekend PERFECT! We will definitely be back.